You don't have to wait for 'burger night' or even have a grill to enjoy everything you love about a good burger when you've got a Burger Bowl with Special Sauce to satisfy that craving. The best part is that you can have them on the table in under 30 minutes and they're infinitely customizable to take advantage of what you have on hand right now. You can even use ground turkey – this is your Burger Bowl with Special Sauce. You call the shots here, friend.
This post was created in partnership with Primal Kitchen.
This recipe was originally published July 28, 2020; Updated March 16, 2022.
Have It Your Way
Now you can skip the drive-thru and make a mean Burger Bowl with Special Sauce at home with this easy-to-prepare recipe that lets you use up what you've got on hand while customizing it to meet your diet preferences and tastes. At the bare minimum you'll need a bowl, some hamburger, and our ridiculously easy and tasty sauce.
What You'll Need to Make a Burger Bowl
Consider this as the starting point for your burger bowl:
Ground beef or turkey
Mixed greens or greens of choice
Tomatoes: Cherry or grape tomatoes are easy and just need to be halved if they're large but sliced or diced fresh tomatoes also work great
Avocado: Sliced, mashed, or a scoop of your favorite guacamole adds healthy fats and richness
Pickles: Dill, sweet, spicy…spears, slices, chopped – they're all good so use the ones you like best. Sauerkraut is also a delicious option!
Onion: Diced or sliced – yellow, white, or red onions. Fried, grilled or caramelized onions are also fantastic here but we're really fond of these Quick-Pickled Onions for the tangy-zing they add to a Burger Bowl and everything else they touch
Cheese: Choose your favorite cheese or leave off the cheese to make this Burger Bowl with Special Sauce dairy-free and Whole30-friendly. Shredded cheddar is a natural choice but crumbled blue cheese and shredded pepper jack are great ways to make your bowl even bolder
Bacon: Oh, yes. BACON. Go all out and crumble on some bacon if you'd like, it adds a delicious smoky flavor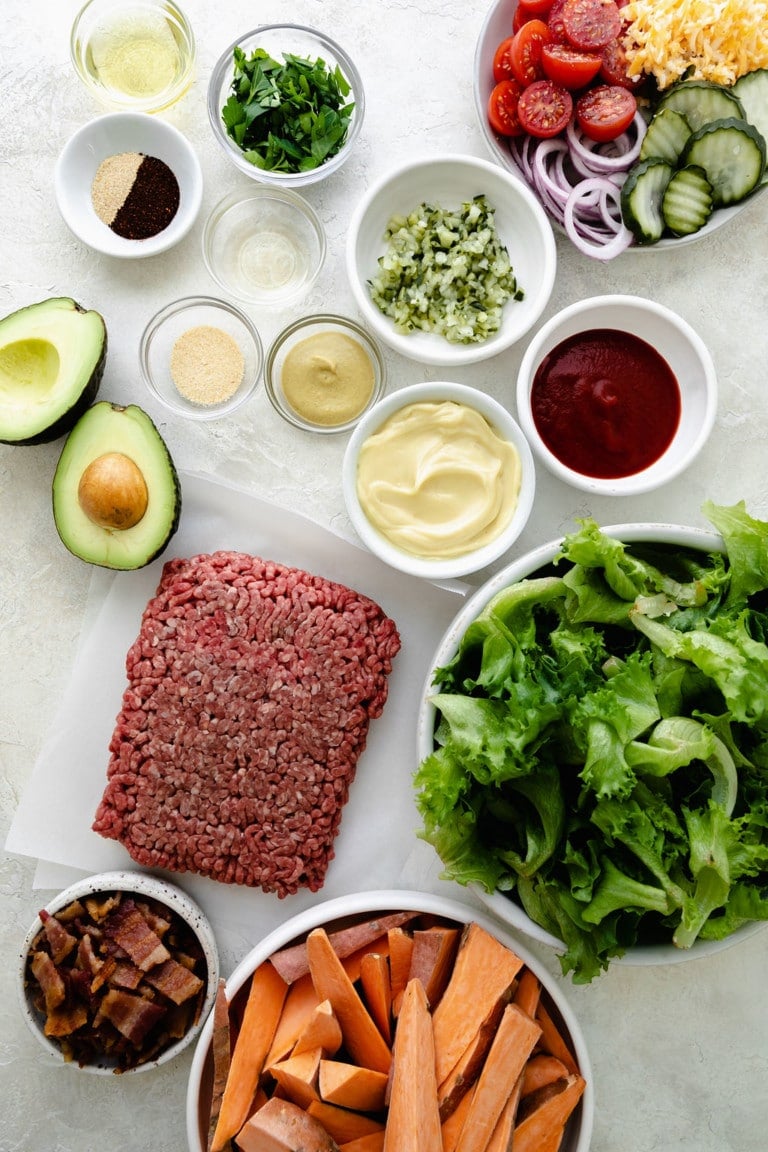 How to Make a Burger Bowl
It's really quite simple and this is more of a formula or template than a recipe (except for the Special Sauce – there is a recipe for that below). Start by filling a bowl with a generous portion of leafy greens (Romaine, green or red leaf, butter leaf, spring mix, spinach, etc.) then top it with browned ground beef (or a grilled burger, if you wish) and pile on your favorite burger toppings.
What's a Burger Without Fries?
It's just a burger, sadly. So that's why we've added a side of oven-baked sweet potato wedges to this Burger Bowl. They're the perfect vehicle for getting that Special Sauce to your mouth. If you're short on time, consider swapping the homemade fries for a bag of frozen sweet potato fries and prepare them according to the package instructions. Looking to keep it low-carb or keto? Omit the fries and add more veggies to fill your bowl.